---
Food & Lodging
Food:
Hike to Health will provide you with delicious and nutritious food for the entire trip, including snacks and refreshments for the trail. We will ensure healthy, gourmet cuisine prepared, as much as possible, with organic fruits, vegetables, meats and natural whole foods. On some evenings you will experience some of the local cuisine. If you have special dietary needs, we will be glad to accommodate you. Our small groups allow us to devote personalized attention to each person's specific needs to ensure maximum fulfillment and satisfaction. When making your reservations, please let us know how we may best meet your dietary needs.
Our meals are prepared from recipes from the cookbook,
"Guilt Free Indulgence: An Art Worth Mastering,"
which may be purchased at a cost of $22.00.
Here are a few examples of the selections from our dinner menu:
Sensational Soups - Sizzling Black Bean, Creamy Carrot and Squash, Irish Vegetable Stew, Lentil Lust, Split Pea Passion
Salads - Spinach Salad with Strawberries and Poppy Seed Dressing, Artichokes with Chickpea Salad and Lemon Mayonnaise, Greco Salad with Feta, Salad Greens with Basil-Red Pepper Dressing
Main Entree
s
Vegetarian: Millet and Lentil Loaf, Lentil and Brown Rice Casserole, Lentil Stuffed Tomatoes, Soya Bean Moussaka
Non-vegetarian: Grilled Ocean Perch with Green Herb Sauce, Red Snapper and Sweet Pepper Stir Fry, Orange Honeyed Chicken, Chicken Breast in a Pecan Coat, Chicken Stroganoff
Desserts - Apricot Tart with Almonds, Hot Apple Cobbler with a Crunch, Almond Bananas, Honey Sweetened Ice Cream
For our lunches on the trail, we will serve sandwiches, chips, fruit, cheese and crackers, bottled water or honey sweetened sodas.
For our breakfasts, we offer our specialty, Mighty Moose Smoothie (20 ounces of power packed nutrition), or whole grain cereals, scrambled eggs and toast served with your favorite beverage.
---
Lodging:
We offer the finest accommodations that are specifically chosen to make you feel comfortable, secure, and relaxed for a good night's rest so that you can wake up energized for another day of fun-filled activities and adventure. Upscale fine western lodging overlooking the Yellowstone River and Yellowstone National Park.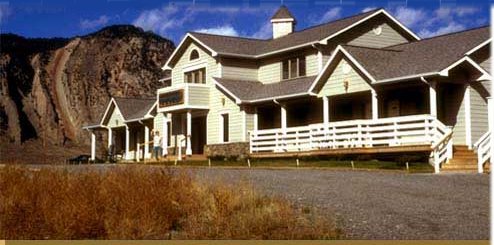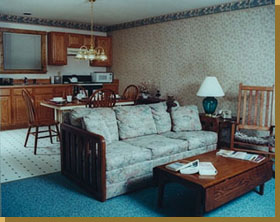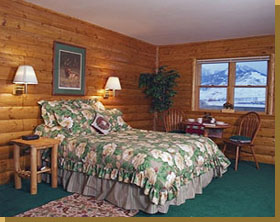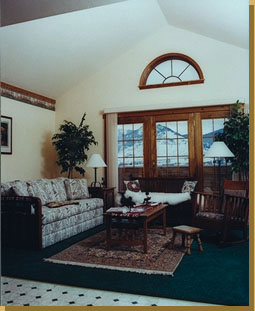 ---