---
Massage Therapies
(May include the use of aromatherapy oils according to client preference.)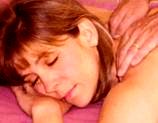 A.

Therapeutic Massages: We will pamper you with a soothing Swedish massage that will relieve muscular tension and soreness, stimulate circulation of blood and lymph, and promote deep relaxation and tranquility.

Cost: $60.00 per 45 minute treatment.

B.

Shiatsu Massage: This technique uses the ancient oriental healing system of acupressure and stretching that opens the Meridian energy channels, allowing the life force energy Chi to flow unhindered. This creates harmony and balance in Mind, Body, and Spirit, allowing the body to heal on all levels. The peace and serenity produced by Shiatsu is indescribable.

Cost: $60.00 per 45 minute treatment.

C.

Reflexology Massage: After a full day of hiking, a foot massage is greatly anticipated. Not only do your feet get a treat, but the therapeutic results give your entire body a timely tune-up. Reflexology is based on the theory that the foot is a map of the entire body and, by applying light pressure to specific points and areas on the foot, it has a therapeutic affect on that part of the body that correlates with that specific point.

Cost: $60.00 per 45 minute treatment.



---